How Sports Betting Algorithms Called the Winner of Super Bowl 50
NFL 2015 SUPER BOWL 50
RAW NUMBERS:
—
Thoughts: I'm 4-1 in the last 6 Super Bowls coming unbelievably close last year with the Seahawks against the Ravens. I ended this season now 51-27-1 +20.01 units ATS (that's 65.3%). My immediate lean between the Denver Broncos and the Carolina Panthers is towards Denver and the points.
First, let's see what people are babbling about….
—
In The News:
*James Jones thinks Carolina has the edge on D "The fastest defense I've probably played against in my nine years in the National Football League"
*Broncos Face A Threat They Haven't Seen Before
*It's official: Manning all-time greatest . . . choke artist …..and then this:
*Superbowl 50 Hype Poster (x-post Panthers) which doesn't seem to have a slant either way…
So it seems that, not too mention an enormous mismatch of public betting %'s, the public is loving the Carolina Panthers. That is where I would come in and instantly see value in the public fade especially in a big marquee match up like Super Bowl 50.
So over at this source I see 40.6k bets for the Panthers and just 15.2k for the Broncos logged. How is nobody giving them a chance; sure Peyton Manning does indeed have a history of choking in the playoffs, but has he so far in these playoffs? May this be his last season? Has his little brother won more Super Bowls than him? Is he NOW working with the #1 rated defense in the league? Hmm.
Coaches: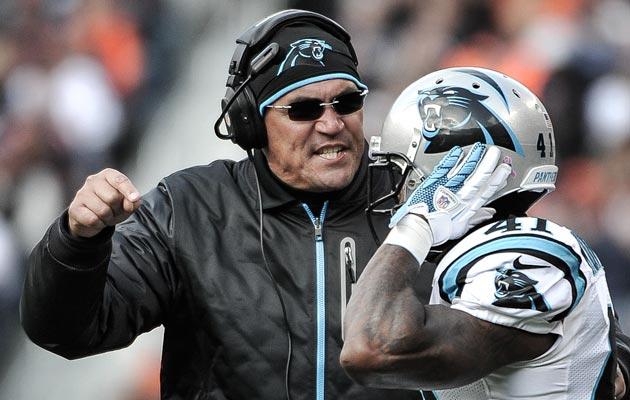 The biggest reason I won't go big on this game is Ron Rivera. Cam Newton is irrelevant to me. Ron Rivera isn't given enough credit and I don't think the coaching advantage is equally built into the line here along with the SU team records and the perceived superior QB (Cam Newton). I have a ton of respect for River Boat Ron and I think he's burned every fool bet I've made against him this season.
On the other hand,
always seemed like a pretty awesome coach to me while he and Yates were reeling in the dough for me back in Houston. I think another idea is the stink that John Fox left behind; sort of like a fart in a crowded room — you're not exactly sure who did it. Fox didn't take enough blame in my opinion for the aforementioned "choking" and I'm fairly certain he didn't really live up to any hype in Chicago; the Broncos are a better version of themselves this year and this spread.
Strength of Schedule:
*The Panthers got to 17-1 on the 3rd EASIEST strength of schedule this season.
*The Broncos had the 13th most DIFFICULT
Wins off of easy schedules can be good and dangerous to bet against because they build team morale and build momentum; the other line of thought though is that many easy wins could build a false sense of self.
The Bottom Line:
Often, the more I dissect a game, the lesser of a proposition it ends up being for me. I hate overthinking something and then making a call with so many back and forth thoughts. The Bottom line here in Super Bowl 50 is that the contrarian underdog Narrative strongly supports Peyton Manning and the Broncos; however, Ron Rivera is the best coach in the NFL two years running. I don't see him as the kind of guy to rest on his laurels now or let anyone on his team do the same. Still though, too many points going towards the Panthers here so…
SUPER BOWL 50 PLAY ON:
Feb 07 6:30 pm Panthers vs Broncos
Take: BRONCOS +5.5 — WINNER!
Trends:
*After week 14, teams averaging 11+ ppg are just 43-80 ATS (35%) – Fade Panthers
*Overreaction to high scoring win. 2-16 ATS – Fade Panthers
*Since 2013, a team off of a win as a home dog is just 17-45-1 ATS (27.4%) – Fade Broncos
—
NFL Key Numbers: (By order of occurrence)
Margins of Victory: 3,7,10,4,6,14,1,17,2,13,5,8,11
Common Totals: 37,41,51,44,30,43,33,40,47,48,45,34,27
Enjoy the Game!
ProComputerGambler.net